Major container management software vendors
Container schedulers and orchestration tools

Kubernetes is a popular open source container orchestration software based on Google's Borg cluster management tools.
Vendors and open source communities have created diverse distributions of Kubernetes, including CoreOS Inc.'s Tectonic, Red Hat OpenShift, Apprenda Kismatic Enterprise Toolkit, Google Container Engine (GKE), Ubuntu's Canonical Distribution of Kubernetes, Rancher Labs' Rancher, Univa Navops and VMware Photon Platform. Kubernetes support and partnerships crop up and evolve frequently.
The Kubernetes community maintains projects focused on host server cluster management utilities and configuration templates, such as Kubernetes Operations (kops) and Istio, as well as Ocado Technology's Kubermesh, Heptio's Quick Start for Amazon Web Services and eBay's TessMaster.
Vendors such as AppOrbit also manage the creation of Kubernetes clusters. The Kubo project, which is led by Pivotal, VMware and Google, manages cluster creation on Cloud Foundry's platform as a service.
Cloud containerization services abstract the management of Kubernetes clusters from users; those service products include GKE, Azure Container Service and Azure Container Instances from Microsoft, Amazon Elastic Compute Cloud (EC2) Container Service, StackPointCloud supported by DigitalOcean, and the IBM Container Service, among others.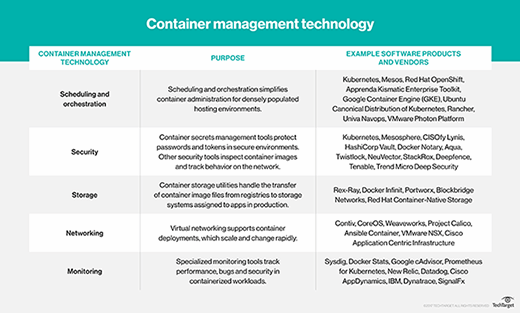 Some open source Kubernetes-based container management software focuses on how applications and updates deploy to Kubernetes environments. These projects include ksonnet by Heptio, Helm, Applatix Argo, and numerous continuous integration and continuous deployment tools that integrate with Kubernetes.
Apache Mesos is an open source project that manages compute clusters, including container clusters. Mesosphere DC/OS, a commercial product based on Mesos, orchestrates containers with hybrid cloud portability. Mesosphere offers its own container scheduler, and it supports Kubernetes in DC/OS. Mesos enables an organization to manage clusters based on different versions of Kubernetes together.
Docker offers Swarm mode, a cluster management utility for containers, as well as other enterprise-focused container management software features, such as the Docker Secrets and Notary container security utilities. Some third-party vendors offer host cluster and container configuration templates for Docker Swarm mode. Examples include Puppet's Lumogon and Chef's Habitat. Cloud container management services also support Docker Swarm mode.
Container security tools

Container secrets management tools keep track of passwords and tokens in secure environments. Docker secrets management tech exists in upstream Kubernetes, as well as Mesosphere, CISOfy's Lynis and HashiCorp's Vault. Docker Notary and tools like it can certify container images as they move between test, development and production environments.
Static image and runtime container security scanning tools inspect container images before they are deployed and track behavior on the network after deployment. This software is available from several vendors, such as Aqua Security, Twistlock, NeuVector, StackRox, Deepfence and Tenable. Some traditional network security platforms, such as Trend Micro Deep Security, also support containers.
Persistent storage management

Containers are ephemeral, which means that they do not retain information between sessions. But stateful applications rely on some connection between external storage volumes and containers.
Container storage utilities also handle the transfer of container image files from registries to the storage systems assigned to apps in production. Docker makes storage volume plug-ins available from various vendors, such as the open source container storage orchestration engine Rex-Ray from Dell EMC's community.
Container persistent storage tools that offer true container portability for stateful applications come from Docker Infinit, Portworx, Blockbridge Networks and Red Hat Container-Native Storage based on Gluster.
Container networking tools

Given their density and ephemeral nature, containers tend to rely on virtual networks. Container-specific virtual networking tools are available from Contiv, CoreOS, Weaveworks and open source projects, such as Project Calico, which focuses on Kubernetes container network management.
Wider virtual network management platforms — such as Ansible Container, VMware NSX and Cisco Application Centric Infrastructure — also support container technology.
Container monitoring tools

Specialized monitoring tools track performance, bugs and security in containerized workloads. Container-specific monitoring tools are offered by Sysdig, Docker's Stats feature, Google's cAdvisor and the Prometheus tool for Kubernetes.
Some DevOps monitoring platforms monitor containers in addition to other hosting architectures. These products come from companies such as New Relic, Datadog, AppDynamics, IBM, Dynatrace and SignalFx.