Just in time before this year's other buddy-cop comedy based on an old dramatic TV series, CHIPS, here comes a new trailer for Baywatch.
Is this so hot you're going to need to wear sunscreen in the theater, or will it be a miserable overcast day at the beach, joining the large pile of disappointing TV-show adaptations? Watch the new spot and then see what everyone's saying about it down below.
When it comes out: May 26
Who is in it: Dwayne Johnson, Zac Efron, Alexandra Daddario, Kelly Rohrbach, Priyanka Chopra, Ilfenesh Hadera, Rob Huebel
What it's about: Based on the iconic show from the '90s about Los Angeles lifeguards, the movie version is, of course, bigger and more action packed. Johnson is the leader previously played by David Hasselhoff, while Efron plays a hotshot new recruit, filling in David Charvet's part. Daddario is another new recruit and love interest for Efron, originally played by Nicole Eggert. Together they must thwart a criminal plot that somehow threatens the bay they watch.
How is the new trailer: There doesn't seem to be a whole lot of new material in the latest trailer, at least not comedy-wise, other than a shot of Efron in drag when the main duo decides to go deep undercover. There is more character and plot filled in, at least, but there's no denying this looks more like a basic buddy-cop comedy than something specific to Baywatch. The action doesn't even look like it's very lifeguard oriented. Then again, this is based on just a few minutes.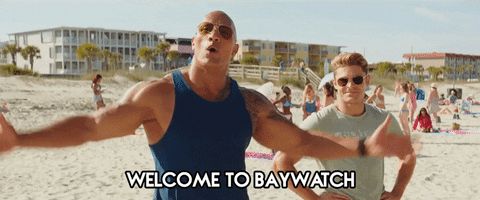 What other people are saying about it:
"The two leads have some fantastic back-and-forth sequences teased in this trailer that should be a riot to see in the theater, and there seem to be plenty of set pieces (and costume changes) to keep this thing firing at a fast pace, perfect for some early summer fun." – Dave Trumbore, Collider
"Because Johnson's involved, the movie turns into a veritable Fast and Furious spin-off, with jet ski chases, subterfuge, explosions and what looks like… a cannon? If you've ever wondered what the car chase franchise looked like — minus cars — look no further." – Hoai-Tran Bui, /Film
"We also get to see just how vile some of the comedy is going to be…This is not a red-band trailer, so we honestly can't imagine what this movie has that we're not seeing." – Dirk Libbey, Cinema Blend