Service models
IT professionals can use the three servicing channels within Windows as a service to create deployment groups with different users or devices that they deliver the updates to at different cadences. The three servicing channels are:
Windows Insider Program: Members of the Windows Insider Program get access to whatever updates are coming as soon as they are available during Microsoft's development process. This allows IT to work with the updates and test compatibility before the update goes out to the general public. In addition, Microsoft encourages members of the Windows Insider Program to provide feedback on any issues they encounter. The gestation period for updates is about four months, but it depends on the feedback Microsoft receives from Insider members. When an update is ready for general use — meaning customers, independent software vendors and Microsoft partners consider it functional — Microsoft declares it to be "ready for broad deployment."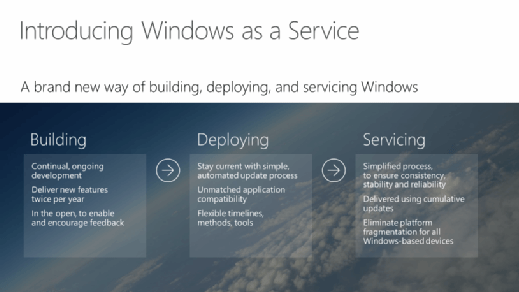 Semi-Annual Channel: This channel follows the twice-per-year update model. It was formerly known as the Current Branch for Business. Organizations can defer updates for up to one year with the Semi-Annual Channel if they have Windows Server Update Services (WSUS), Microsoft System Center Configuration Manager (SCCM) or Windows Update for Business. The Semi-Annual Channel has two subsets: Targeted, which is similar to what Current Branch was, and Broad, which is similar to what Current Branch for Business was. With Targeted, IT should test the update on more advanced devices with the latest chipsets and capabilities. If the tests are positive, then the update becomes Broad and IT can distribute it throughout the organization.
Long-Term Servicing Channel (LTSC): This channel is designed for specialized devices such as ATMs where security and stability are paramount and the downtime associated with OS updates is unacceptable. The LTSC, available only for the Windows 10 Enterprise Long-Term Servicing Branch edition of the OS, blocks feature updates but allows quality updates to continue. IT can defer the quality updates using Windows Update, Windows Update for Business, WSUS or SCCM. Updates in the LTSC occur about once every three years, and IT can implement them through in-place upgrades.
LTSC retains update support for a decade. The first five years maintain standard support, while the second five years get extended support.